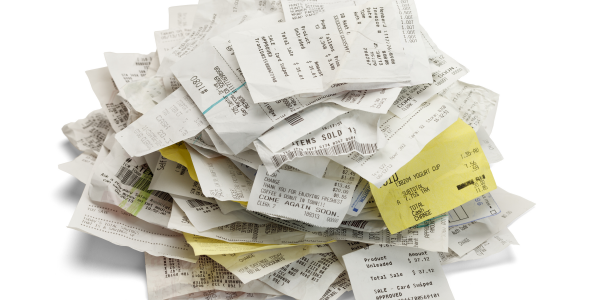 Clever Ways to Organize Receipts
Keeping receipts is the best way to assess your annual spending accurately. The key to saving those slips of paper crammed into your wallet is committing to a system that is a daily habit rather than a chore.
Come April 2019, you won't want to be caught searching high and low in your home for all those receipts from business trips, work lunches and other expenditures at the last minute.
Here are a few ways you can organize your paperwork effectively without making it too complicated:
The Folder System
Dedication may be the hard part for some. We recommend you use a folder system or create different storage spaces at home, in your car and at work where you may file receipts as you spend money. You'll soon be able to see how quickly little things can add up. Don't forget to add a little note once you tuck it away for safekeeping, so you can remember the nature of the expense.
Hidden in the Closet
Remember that outfit you bought two months ago that you thought you were going to wear but ended up not loving it after all? Try this method! Take your receipt from your bag and hang up your item in your closet and immediately staple or paper clip the receipt onto the item's tag. You'll always know where the receipt is to return it later.
Accessibility with an App
If an evening spent scanning receipts isn't your idea of fun, consider tracking your day-to-day expenses on the go by going paperless. Take photos of your receipts to create a digital backup at the point of sale, then simply import and organize them on your computer during your monthly tax check-in. You'll appreciate the little risk of receipts getting lost, fading or damaged.
Recommended Popular App to Download Now: Shoeboxed
This app lets you use your phone to scan in receipts or mail in paper copies using their "magic envelopes". Their scanning technology will grab information from your receipts and catalogue them into their software. Bonus perk: They have a mileage tracker for those long business trips.
See more Apps here: https://yeaterassociates.com/7-apps-business-taxes/
Scan It
Invest in a scanner and scan the receipts that you don't need physical copies of. Receipts tend to fade with time, so saving a digital copy of them not only adds less clutter, but also help you keep a permanent record.
We know what it takes stay organized and up-to-date. Let us help you get the financial reporting you need. Call 970-378-4830